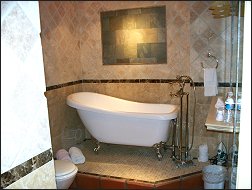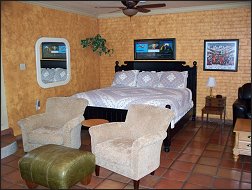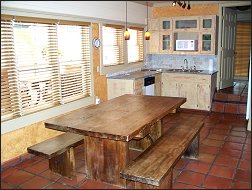 This 1925 GROUND LEVEL carriage house offers families or groups a private restored area.
The architectural details highlighted are the bead board ceilings, brick walls. double hung windows, saltillo tile floors, faux walls, giving the feel of a Mexican casita. The spacious suite has an open living area that includes a heavy Malaysan dining table and benches, a black leather couch, double chairs in the entertainment area and a KING-sized bed.
The kitchen area includes well-stocked cabinets, stovetop, microwave, dishwasher and a full sized refrigerator.
The adjoining bedroom has 2 twin beds and has it's own private bathroom and shower with extensive use of marble and travertine tile. An additional bathroom boasts a deep claw foot tub and and an abundance of travertine tile……mood lights make for a soothing soak.
An outside sitting area at the front of the Carriage House affords a relaxing space with a high vaulted ceiling and 2 fans to keep cool. An additional seating area is streetside beneath an intricate pergola and private brick walls.
Please call for availability and reservations
888-327-8439