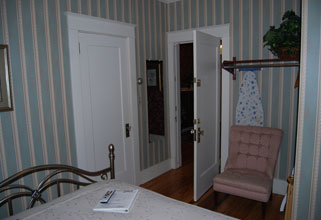 This SECOND FLOOR room offers you a tranquil retreat and overlooks the courtyard and shade gardens. The cozy Garden room has a comfy QUEEN bed and down comforter.. it's a perfect room for cuddling couples. Enjoy watching your favorite TV show .. or just listen to the radio or read in bed as was done in days gone by. The Garden Room has a private bath with shower only.
(adults only/double occupancy only).
**** wireless internet on entire property.
Please call for availability and reservations
888-327-8439