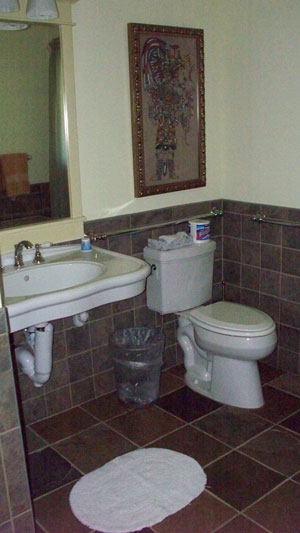 Pool House Suite 2 is totally ADA compliant with dedicated parking and a paved walkway to your room. The historic main common areas are accessible allowing you to have breakfast in the main house dining room or in the privacy of your room.
The building was designed to match our original 1925 house with open eaves and keystones and stain glass windows. The room has a gas fireplace, Jacuzzi whirlpool and a king sized bed.
ADA required widths in bathroom with a roll-in shower with a hand held wand and seat with designer grab bars in both the shower and around the toilet. The designer porcelain sink is a wall mount that meet the ADA requirements for wheelchair access. The smoke/fire alarm, door bell are audible and visual. The room also has a microwave, refrigerator and flat screen TV.
Please call for availability and reservations.
888-327-8439